Watch Exclusive 'Jojo Rabbit' Clip: This Table is Switzerland
Wed, 16 Oct 2019 17:00:00 GMT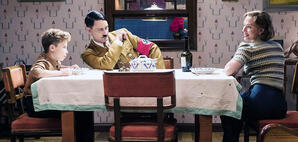 Faced with an unimaginable conflict, a young boy relies upon his vivid imagination in the beguiling new film, Jojo Rabbit. Living without his father during World War II, Jojo (Roman Griffin Davis) has succumbed to intense pressure from his young peers, as well as his fellow citizens in Germany, and become devoted to an imaginary, childish view of Hitler, as portrayed by director Taika Waititi. His beloved mother Rosie (Scarlett Johansson) is well aware of the perilous conditions in which they...
Watch Exclusive 'Black and Blue' Featurette: The Good Fight
Tue, 15 Oct 2019 17:00:00 GMT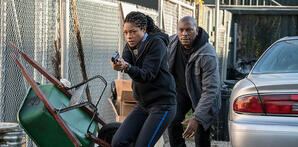 Young police officer Alicia West (Naomie Harris) must go on the run after she witnesses a violent crime in Black and Blue. Her life is placed in grave danger because she inadvertently recorded the murder of a drug dealer that was committed by corrupt cops. Alicia quickly realizes that no one in her community is willing to trust her — or any police officer, really — until a brave soul (Tyrese Gibson) emerges to help her escape from her increasingly desperate fellow officers in blue,...
Next 3 Major Awards Contenders: 'Jojo Rabbit,' 'The Irishman,' '1917'
Mon, 14 Oct 2019 20:31:38 GMT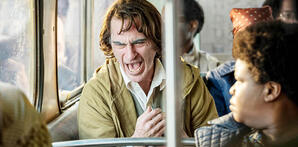 Proving to be a popular hit doesn't always guarantee awards consideration, yet Joker is poised to grab further attention in the coming weeks and months. While critical opinions continue to differ, nearly everyone agrees that Joaquin Phoenix gives a stunning performance as Arthur Fleck, a.k.a. Joker. As more people see Joker, we expect that talk about award possibilities will increase. Meanwhile, two other films have generated special buzz from early screenings at film festivals, while...
'Maleficent: Mistress of Evil' Kicks Off the Halloween Season
Mon, 14 Oct 2019 17:00:00 GMT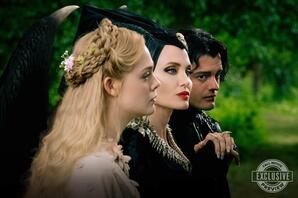 October belongs to Maleficent, also known as the Season of the Witch, so what could be better than an exciting new action-adventure starring the iconic Disney villain in her most menacing role, the Mistress of Evil. This is a perfect movie to kick off the Halloween season – a large-scale tale that delves further into a powerful character portrayed magnificently by Angelina Jolie. Previously, Maleficent was only known for her dark side, as showcased in the classic animated tale Sleeping...
The Week in Movie News: 'John Wick' Spin-off Lands 'Underworld' Director, First 'Jungle Cruise' Trailer and More
Fri, 11 Oct 2019 20:15:48 GMT Need a quick recap of the past week in movie news? Here are the highlights: BIG NEWS Len Wiseman to direct John Wick spin-off: In addition to a fourth John Wick movie in the works, a spin-off titled Ballerina is on the way. Deadline reported that Underworld and Live Free or Die Hard director Len Wiseman will be at the helm of the action movie, which is centered around a character from John Wick: Chapter 3 - Parabellum. Yahya Abdul-Mateen II joins The...
Know Before You Go: 'Doctor Sleep'
Tue, 08 Oct 2019 22:34:14 GMT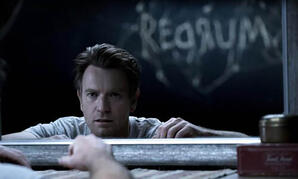 Here is everything we know about the new film, Doctor Sleep, in theaters November 8. How is Doctor Sleep related to The Shining? Doctor Sleep is an adaptation of Stephen King's novel of the same name, but it is also set in the same universe as Stanley Kubrick's 1980 film. The main character of Doctor Sleep is Dan Torrance, son of the primary figure of The Shining. Dan is just a boy during the events of that book/movie, dealing with his father going crazy and...
Today in Movie Culture: 'Joker' Easter Eggs, Scene Breakdowns, Fan Art, Musical Tributes and More
Mon, 07 Oct 2019 21:56:10 GMT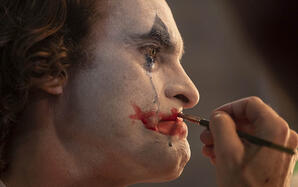 Here are a bunch of little bites to satisfy your hunger for movie culture: Easter Eggs of the Day Joker broke box office records in its debut over the weekend, as fans of DC superhero movies and general audiences flocked to the villain showcase in droves. Did you see it? And did you really see everything? Here's ScreenCrush with a helpful guide to 43 Easter eggs and other reference you may have missed: Scene Breakdown of the Day Joker is such a...
Next 3 DC Movies: 'Birds of Prey,' 'Wonder Woman 1984,' 'The Suicide Squad'
Mon, 07 Oct 2019 17:44:15 GMT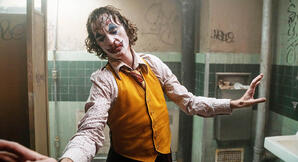 Reactions to Todd Phillips' Joker have ranged all over the map, from wild enthusiasm to more tepid reactions by some critics and DC Comics fans. Almost everyone, however, was deeply impressed by Joaquin Phoenix's absorbing and magnetic performance; his portrayal of doomed comedian Arthur Fleck has burrowed its way deeply into the psyche of moviegoers and has definitely spurred awards talk for the actor. This weekend's release launched a new phase in movies based on DC Comics...
Today in Movie Culture: The Joker Meets Pennywise, a Legal Look at the Joker's Mental Health and More
Fri, 04 Oct 2019 21:47:12 GMT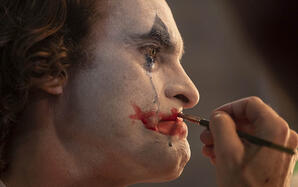 Here are a bunch of little bites to satisfy your hunger for movie culture: Character History of the Day Joker is now in theaters featuring the latest cinematic portrayal of the most iconic DC Comics villain, who is otherwise best known as Batman's greatest arch-nemesis. In honor of his first solo outing on the big screen, Birth.Movies.Death. created a short documentary on the history of the character. Watch below. Movie Science of the Day For...